Keep on Shining
Keep on Shining, that's our motto. We radiate it as we work as chief engineers in the merchant navy, but also when we're distilling during our leave in our self-built distillery in Zwartsluis. We proudly propagate our green character. We produce everything with green electricity and use stills made from recycled material. What is also met with a smile is our name – Dubhghlas – which is Old Scottish for Black Water, the name of the river where Zwartsluis is located.
Ship's greetings,
Cees & Laura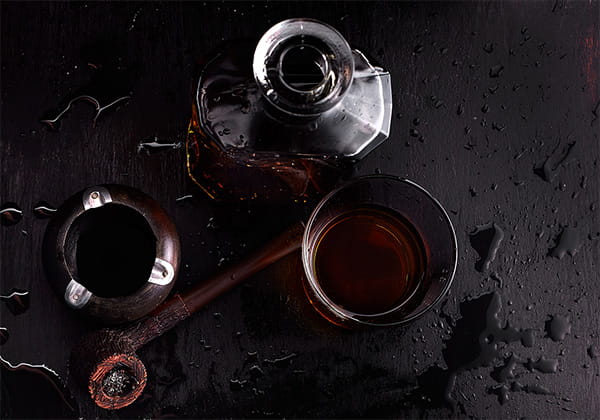 Origin
From fun to serious distilling
It started at our informal whisky club in Zwartsluis, with a little fun. How great would it be if we could make our own whisky? We were already brewing beer, and since brewing distillery beer is a lot simpler, we decided to go for it! We bought an old copper Daalderop boiler at the scrap yard. We converted it to a still. After years of distilling drinking water from seawater, we started with the real thing: distilling the water of life from beer.
Moonshine
With that, our Moonshine period of experimentation began. We soon found out that distilling was quite addictive for us. Since we loved doing it so much, becoming legal was the next step. But before that, we first wanted to know whether what we were distilling also tasted nice. At festivals, we'd let people taste our product – people who earned their living with distilling. That resulted in such positive reactions that we took the plunge.
Dubhghlas Distillery Zwartsluis
The next step was to obtain the environmental permit. A process in which we had to resolve an objection. After we succeeded, we were able to apply for the necessary customs licence. We honestly confessed what we did in our Moonshine period. With the announcement 'you've now become a grown man, no more mischief', we could start construction. Dubhghlas Distillery Zwartsluis could start shining.
Beverages
What flows from our stills?
There are many beautiful types of beverages, but it isn't possible to distill them all. That's why we only make those that really appeal to us. They are all focused on purity, so no added colourings or sugar, and non-chill filtered. Even our herbal bitter is green.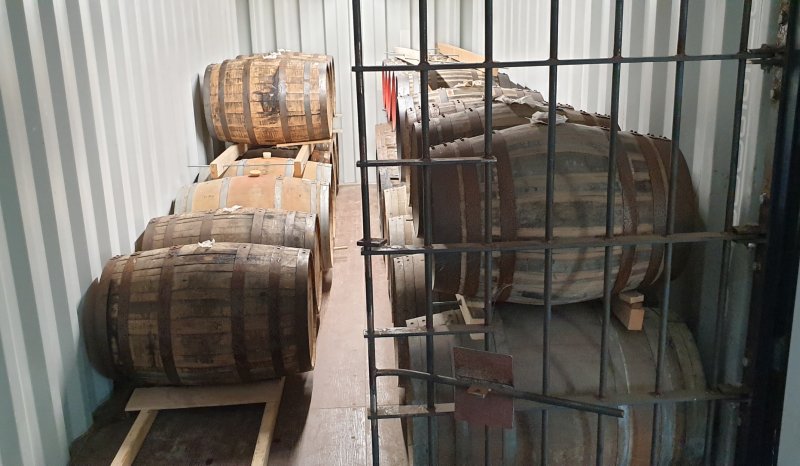 Malt whisky
Wetland Single Malt Dutch Whisky
Both peated and unpeated. The peated will become available as light, medium and heavy to emphasize the peat history of Zwartsluis. They will be single casks at cask strength.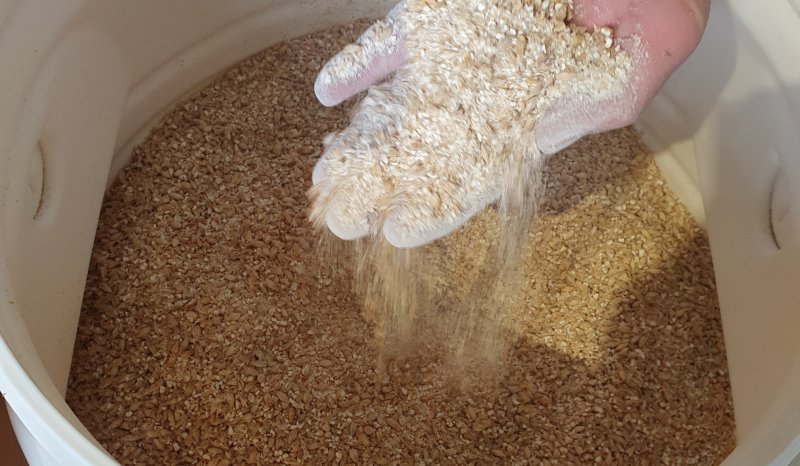 Grain whisky
Grain Whisky
In addition to barley, there are also other grains in the recipe. They will be single casks at cask strength.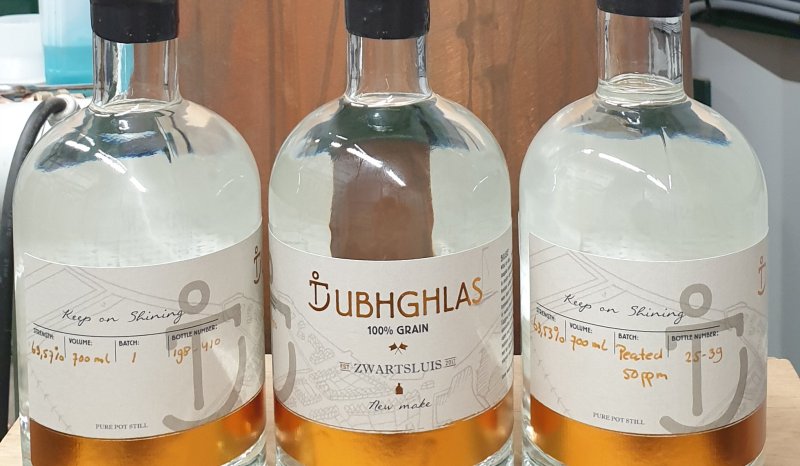 New make
100% Grain
This comes straight from the still and goes into the cask, after which it can be called whisky after 3 years and 1 day. But even without that maturation, it already has a nice taste.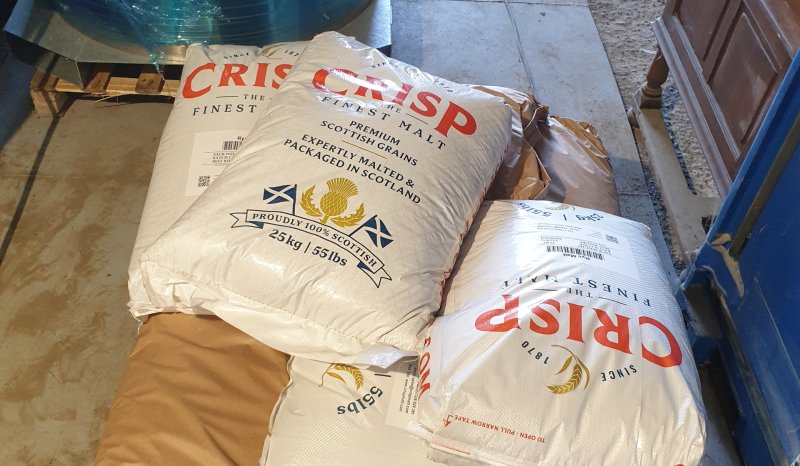 Incognito
Sjaak 531
Technically speaking, it's a bourbon. But because it wasn't made in America, we can't call it that. It's a little spicy! In addition to 5 parts corn and 1 part barley, the recipe consists of 3 parts rye. They will be single casks at cask strength.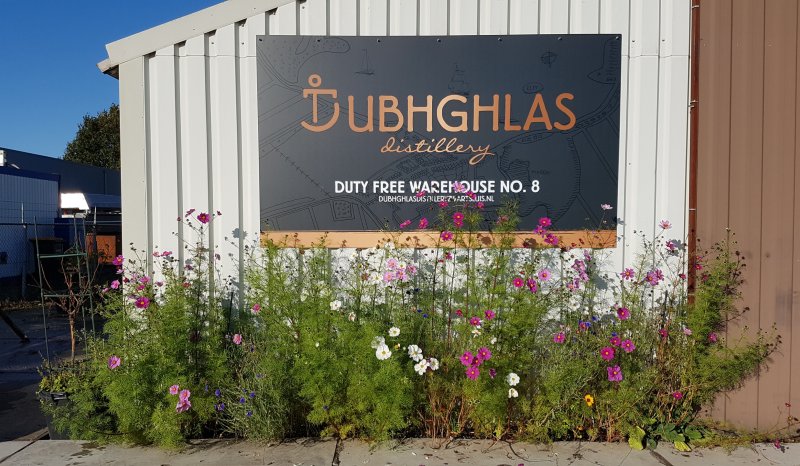 Herbal bitter
Dubhghlas' Botanical Garden
Made with 100% barley according to a recipe that is so secret that even Cees doesn't know it... Fresh herbs from Dubhghlas' Botanical Garden form the basis of this very successful 'witch juice' from Laura.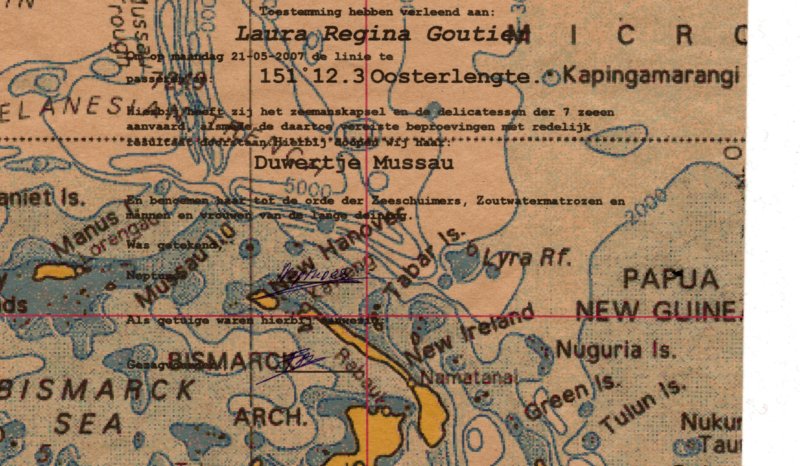 Genever
Salacia Genever
Consists of 100% grain, but contains a hint of sweetness because of the corn we include.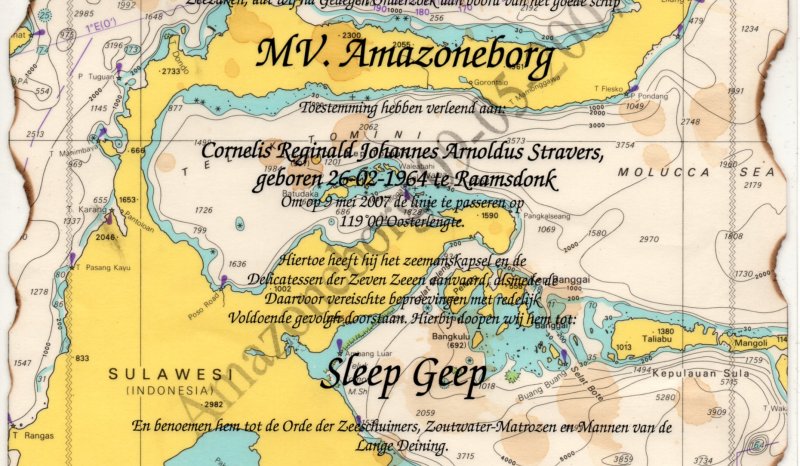 Gin
Neptune Gin
Has 100% barley as a base, but we distill it according to several recipes with different herbs.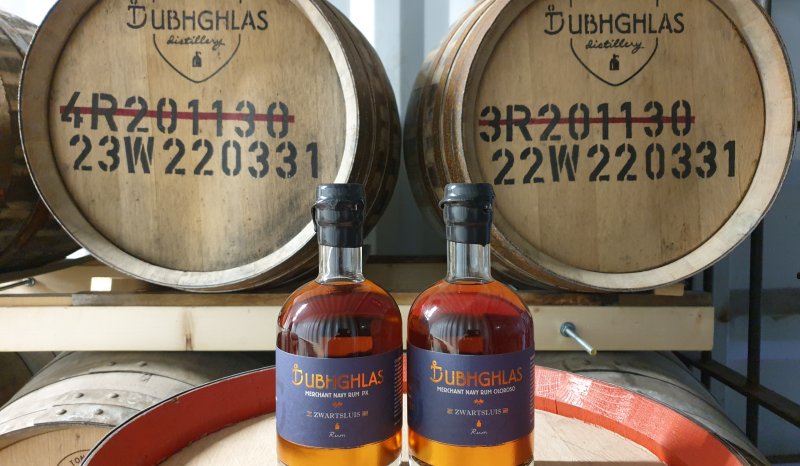 Rum
Merchant Navy Rum
Contains a base of 100% sugar cane molasses, the English way. They will be single casks at merchant navy strength. *** Cask 3R201130, 1st fill Quarter Cask Oloroso, 58,57%, 16 Months Old (30-11-'20 t/m 31-03-'22) *** *** Cask 4R201130, 1st fill Quarter Cask PX, 58,47% , 16 Months Old (30-11-'20 t/m 31-03-'22)
Liquor stores
Where are our products available?
Several liquor stores sell our brand. For your convenience, we have listed all points of sale below.
Want to become a sales point
for Dubhghlas Distillery?
Dubhghlas cask owners warehouse
Whoever keeps something, has something to fulfill wishes!
We're happy to offer independent bottlers, companies celebrating an anniversary, individuals and local whisky clubs the opportunity to have a cask aged at the distillery. This doesn't necessarily have to be whisky. We can even bottle and label for you once it has aged. Let us know what wishes you have, we will fulfill them as possible.
We share the transport costs
Free for 10 years, then storage costs
Bottled by us, Dubhghlas Distillery Zwartsluis on the label
Not bottled by us, Secret Wetland on the label
Intermediate bottle filling
Do you also want to become a Dubhghlas Cask Owner?
Sailor stories
Discover things worth knowing about seafarers!
In our brand Dubhghlas, our activities as seafarers and distillers are strongly mixed. This is reflected both visually and textually. The same applies for our labels. We briefly introduce interesting facts from the maritime world and refer to our website for the full stories. They can be read below.
Bilge
Did you know… the bilge is the lowest point on a ship below the waterline? In the wooden ships of the past, this space was manned continuously to listen for water dripping in. While lying there listening on a bale of spices, falling asleep was quite common. That's where the Dutch saying "listening to the leak" (go to sleep) comes from.
Olietanker
Did you know… The first oil was transported in 1861? It traveled in 159-liter barrels from Pennsylvania to London aboard the sailing ship 'Elisabeth Watts'. Bad weather on the way caused leaking barrels and was the main reason for the development of 'Charles', which, in 1869, was the first iron oil tanker ever. Good for 7,000 barrels of crude oil on board.
Panamakanaal
Did you know… The construction of the Panama Canal took no less than 33 years? That's how much time passed between the first shovel in the ground in 1881 and the moment the American steamship Ancon was the first to cross the canal in 1914. Nearly 28,000 workers died in the excavation, which connects the Atlantic and Pacific Oceans.
Scheurbuik
Did you know that… until 1747, scurvy was the leading cause of death at sea? That only changed thanks to the Scottish doctor James Lind. He tested six treatments on twelve sailors with scurvy. Two proved effective: a liter of cider daily, or two oranges and a lemon a day. The fact that Vitamin C played a role in this didn't become clear until 1931.
Slampamper
Did you know… The last link of an anchor chain is called the clench pin? By securing it to the ship with a steel pin, it can easily be released with a sledgehammer if the anchor gets stuck in the seabed. In Dutch, this is called a 'slampamper', which has also come to mean someone who does nothing or cuts corners.
Contact
How can we help?
Fortunately, the message in a bottle is a thing of the past, but even at Dubhghlas Distillery, it can take a while before a reply is received. If we do not immediately respond to a call, WhatsApp or email, don't panic! This is because on some routes at sea, we don't have satellite reception, or we have to deal with a large time difference on board. We will contact you as soon as we are able to do so again.